Myrkvi brings almost unusually warm sounds from Iceland to us. The fresh folk sound, on his debut Reflections leads warm feelings in the cold season. For everyone looking for a christmas present, the musician has spend us one CD for our Christmas raffle and you can meet Myrkvi in our livestream special on Instagram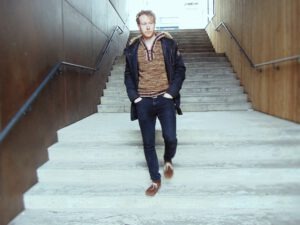 It is probably the most northern music region mentioned on MUSICSPOTS this year. Additionally, to this Myrkvi presents us a rather unusual sound from his homeland. For those who have associated Iceland with rather gloomy melancholic sounds so far will surely be positively surprised here.
Reflections reminds us of summer road trips, meetings with friends in the open air and brings back memories of open airs. An album full of memories of a summer that is really too long ago and will hopefully come back soon.
Singer Magnús Thorlacius presents us his new solo project on Reflections. Named as Myrkvi he takes us on a world tour, he did some years ago writing many new songs. Songs, like Coastline and also Crossroads let us feel this summery vibe, which the musician captured on his stop in Australia.
In the wonderfully minimalist video for the title track Reflections, Myrkvi's warm voice can be experienced once again through the pure acoustic sound. Already in August the musician impressed us in the NEVER LUNCH ALONE live talk with his "Guitar-lele" (6-string ukulele) and his warm voice by perfoming Coastline live on Instagram.
Myrkvi meets Kleopetrol in Livestream
If you want to get more information about Myrkvi and his album, join the NEVER BE ALONE Live Talk on Instagram on Tuesday (01.12.20) at 7 pm CET / 6 pm (GMT). Here Mykrvi meets the German based band Kleopetrol in our Live Talk Special. Quasi a backstage talk live in the stream between musicians and bands.
Reflections can be purchased directly at the Myrkvi homepage shop. Of course the album is also available on all common streaming platforms. Also check out Youtube, Spotify and Instagram with the musician from Iceland.
The year is nearly ending and we wanted to know from the musician from Iceland what music he enjoyed listening during the year, what live music experiences he enjoyed the most in 2020 and what he is looking forward to next year.
Livemusic highlight 2020:
Germany tour in the beginning of the year (Lieblingslieder Hamburg, Acud Macht Neu with Will Samson in Berlin, Prinz Willy in Kiel).
The first Myrkvi concert in Reykjavik @ Iðnó with CeaseTone and Andy Svarthol (the same day as the first Covid case was discovered in Iceland, shortly afterwards the venue closed).
A super fun concert at Gaukurinn with Elín Hall this summer (the day before everything closed down again).
Taking part in the streaming series @ Svavar Knútur's balcony.
The Myrkvi release streaming concert.
I can't wait to start playing live again! I am most excited about touring abroad and Germany is on top of that list There is also a possibility that Vio, my other band, will release a new album next year, which would be super exciting because we haven't released anything for three years. I have started working on the next Myrkvi album and look forward to recording that one as well.
3 favorite songs in 2020:
1. Lost in Yesterday – Tame Impala
2. Temporary – Dream Wife
3. Don't Underestimate Midwest American Sun – Kevin Morby
Lost in Yesterday has been my favourite party song of the year, always gets me in an uplifting mood! The music video is amazing too. Temporary is such a beautiful song. I can't get enough of the hook, Tem-po-ra-ry. Don't Underestimate Midwest American Sun has an atmosphere I just absolutely love. I must have listened to all three songs 100 times on repeat when I discovered each of them.
Now we have started our Spotify Playliste Special 2020. Listen to our new entries every day from 01.12. to 24.12.2020 und of cause there will be one songs of the presented artist as well in the list.
Win on CD of Reflections by Myrkvi
Within the MUSICSPOTS Advent calendar you can win a copy of the CD Reflections.
This is how you can take part in the Christmas raffle: Comment here or on the Facebook, or Instagram page of the post. All comments between 01.12.19 at 13:00 and 04.12.19 at 23:59 will be entered into the competition. The complete terms and conditions of the competition can be found here. We wish you good luck with your participation.
Im Rahmen des MUSICSPOTS Adventskalenders könnt ihr ein Exemplar der CD Reflections gewinnen.
Fotocredit: Myrkvi by Sebastian Madej