This year De-Phazz finally gives us the long awaited Christmas album with "Music to unpack your Christmas present". From pre-Christmas baking and decorating to unpacking the presents on Christmas Eve, this is the perfect soundtrack for the end of the year.
For 20 years De-Phazz accompanies us consequently with lounge jazz & soul through the year. The trio can be heard on dance floors, in bars and in the living room at home. After 15 albums there is now a special present for Christmas: De-Phazz & Co "Music to unpack your Christmas present"
Light jazz meets samba, soul, trip-hop, Latin and R'n'B. The loungey mix of songs is perfect for wrapping presents before December 24th and unpacking them afterwards. Make yourself at home with candlelight, tea or mulled wine and let your thoughts fly by.
Lay back and enjoy the songs that De-Phazz & Co present us on their new album. Many guests have arrived in the studio before Christmas. This year, Pit Baumgartner, Pat Appleton and Karl Frierson will be accompanied by Sandie Wollasch, Caro Trischler, Barbara Lahr, Ulf Kleiner, Jeanne Crémer, Jo Kraus and many others for a contemplative, lounge-like Christmas.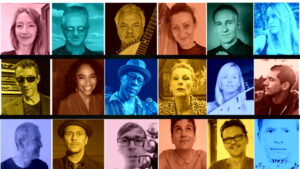 As part of the MUSICSPOTS advent calendar you can win a copy of the album "Music to unpack your Christmas present" von De-Phazz gewinnen. Infos are in the article below.
A look through the year with Pit Baumgartner
Here is a review of the year and an outlook from De-Phazz producer/sound designer Pit Baumgartner. The founder of the self-proclaimed 'lounge-punks' gives MUSICSPOTS some personal insights. Thanks for this.
Asked what brings Pit Baumgartner to create new songs, he says he prefers to experiment with old (unpopular) samples and redesign them. Pit sees himself as a collage artist who produces "recycled music" or restores music with the new digital "tools".
Note by MUSICSPOTS this is, probably the most fitting and beautiful description for the always lounge-jazzy sound of De-Phazz.
The combination of his own now and sometimes slidely crazy humour and tendency to cynicism, Pit Baumgartner continues, he shares (without being proud of it) with Pat Appleton. You can hear this of cause in the lyrics. Currently, he is concentrating more on production for children. The musical spectrum and the variety of genres is much more colorful here.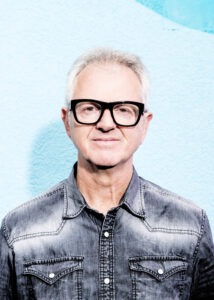 Livemusic highlight 2020:
"Am ergreifendsten fand ich den musikalischen Beitrag der Band "Les Primitives" (M.Dörsam, E. Ditzner,Laurent LeRoi) auf der Beerdigung meines Freundes."
(note by red.: no translation needed)
"Ich freue mich auf den Jahreswechsel :-) in der Hoffnung auf…..(aber das geht wahrscheinlich jedem so?!)"
(note by red.: no translation needed)
3 favorite songs in 2020:
1. Go Loko – Tyga, John Z
2. Heaven't done nothing – Stevie Wonder
3. Ghetto Heaven – The Family Stand
Stevie Wonder beschreibt bspw. sehr treffend die Wahlperiode in den USA 2020, mit einem Text, der mind.n 40 Jahre alt ist (Weitblick), Tyga ist einfach nur cool und Ghetto Heaven relativiert meinen Lockdown.
(note by red.: no translation needed)
Yeah, here we have four new entries in our MUSICSPOTS Special Mix 2020 for you. Of course, Jingle Bells from the new De-Phazz album has been added to the daily growing playlist. Give it a try.
Win a CD of  Music to unpack your Christmas present
As part of the MUSICSPOTS Advent calendar you have the change to win a copy of De-Phazz & Co. "Music to unpack your Christmas present".
This is how you take part in the competition:
Comment here or on Facebook or on the Instagram page of the Post. All comments between 02.12.20 at 12:00 and 05.12.20 at 23:59 will be entered into the competition. The complete terms and conditions of the competition can be found here. We wish you good luck with your participation.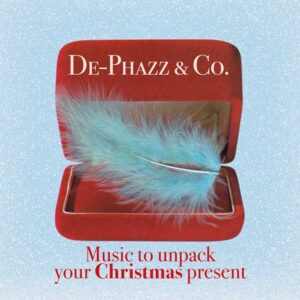 If you don't want to rely on our raffle and the fairy, order your copy directly from the Bandcamp-Shop. Please remind:  #supportyourlocalartist is once again more important than ever. Of course you can listen to the album on Spotify or any other streaming plattform on repeat.
Fotocredit: Pit Baumgartner by Claus Geiss