The Ugandan musician and songwriter KVAN performed at the end of June at this year's MILLERNTOR GALLERY, an international art festival in Hamburg. During her visit we had the great opportunity to meet her for an interview. In our conversation, KVAN gave us a personal insight into a vibrant and rapidly growing music scene in East Africa, which has been shaped by cultural changes, also based on a new new upcoming self-confidence in African music.
KVANs music spans from Dancehall, Reggae to Afropop and their various fusions. With her newest single Man On Duty she entered the charts Uganda's capital Kampala, which is also her homebase and of course also on the MUSICSPOTS playlists.
Dancehall is a music genre quite familiar and celebrated globally as well as here in Germany.  For me as a music lover I have to admit that it has been years since I last danced or went to a Reggae joint or bashment of any kind. Actually the last month brought back many memories to me from the beginning of the 2000s and also to MUSICSPOTS.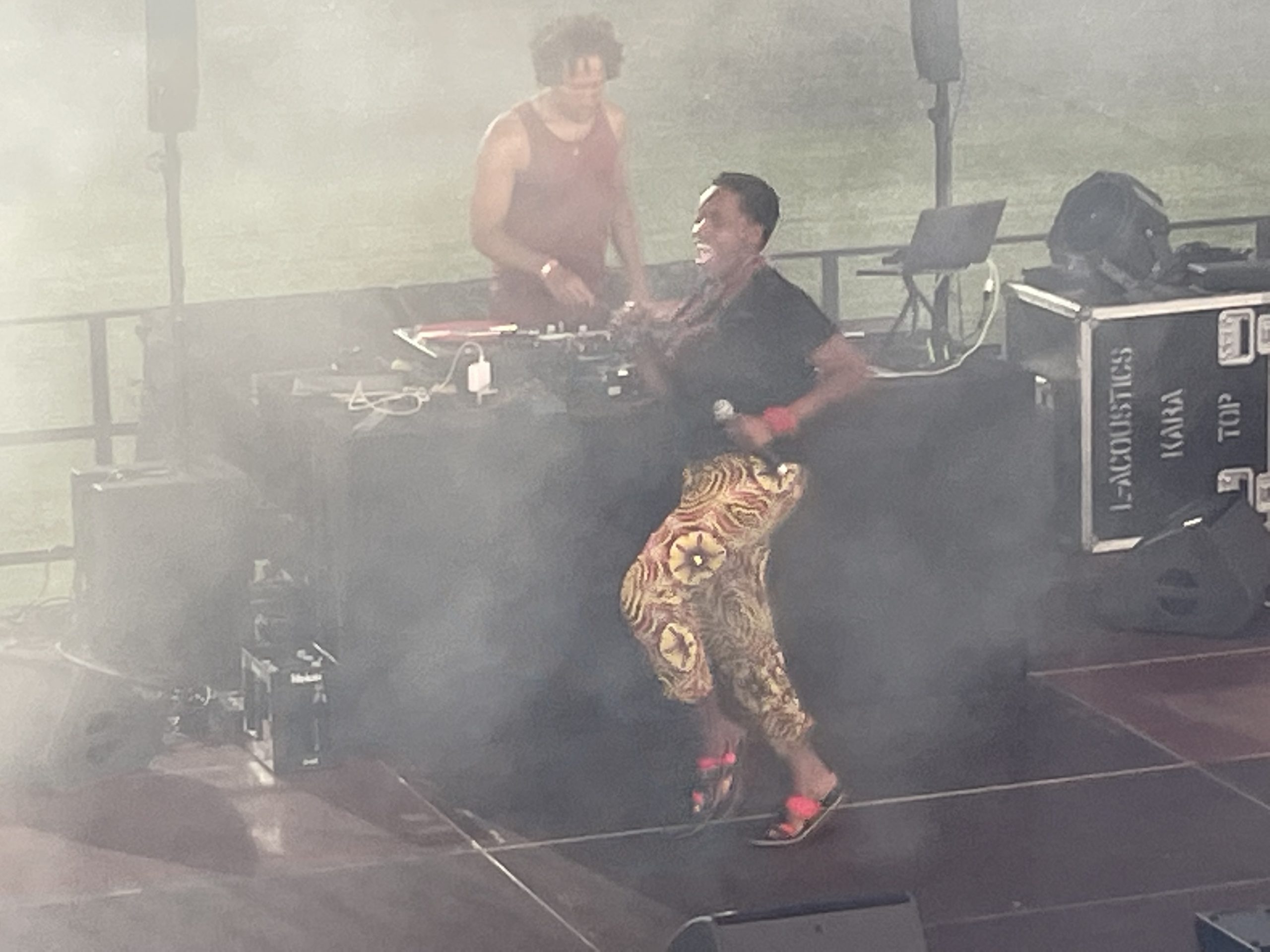 It's obvious that this music genre has changed in the last 20 years compared to what I grew up with. Talking to an artist from within the Reggae and Dancehall scene is exciting and mind-blowing. Therefore it was of great luck that I could meet KVAN after her first show in Hamburg.
What makes Dancehall as a music genre so special for music lovers nowadays?
From an artist point of view, I would say: Dancehall ist a child of Reggae. Reggae is the mother that gives you the feeling and Dancehall gives you the vibe to dance. Especially where I come from in East Africa, Dancehall brings everybody to join the clubs. The night starts with Reggae and the peak hour in the night is when they play Dancehall. We Africans love to dance.
When did you start to make music?
I started when I was around 9 or 10. I did not really realize that I was making music at this time. It came very naturally to me. I had never been someone very open on sharing things with others and telling about news or upcoming things. I sat down in my bedroom or anywhere else and wrote down what was happening around me. It had the feeling of speaking to someone. It always made me feel better. Some years later I got more and more into it and started to write on Reggae and Dancehall tunes. Hiphop was actually the beginning of me writing stuff but it was actually where I got more comfortable as I began to write. Reggae was often the music that gave me that feeling where I could freestyle and write even later. So Dancehall was the dream which came true, while Afro was like the in-between feeling and HipHop was like that 'drop dem lines' feeling`. Combining it all finally felt therefore naturally and easy for my own music.
You just released your new single Man on Duty. What is it about?
Man on Duty is just the way it sounds like. A story for everyone who has someone, a boy or a girl in her or his life who is on duty.
She smiles at me and I think there are no more words needed to explain this hit. The new track is for me on one hand a party track and on the other a good example for the new upcoming self-confidence in African music.
KVAN shows that we can make things happen
Kvan and I are connected through FUTURE FEMALE AFRICA (FFA), a network  and digital platform for women leaders of African descent and the Diaspora to exchange, empower and amplify each other globally. FFA was founded by musician and creative entrepreneur Onejiru with the aim of connecting SHEROS from different businesses from IT, to Design, Food and of course Music to come together to collaborate as well as celebrate their achievements.
With that being said, that's how I was introduced to KVAN and her music which I am happy to warmly recommend.
Looking at the music industry nowadays, has music in Africa and Dancehall in particular changed especially from a female perspective
Yes, the music scene was especially male dominated. But as I speak now, the biggest 5 artists in Uganda are mainly women.
What do you think is your role in changing this male dominated business?
I am feeling that my role as a woman is that I am going to show that we can make things happen. I feel that the future is bright. Cause in the last years many things changed and women have taken different roles and parts in society.
KVAN is telling me how life around her in Uganda changed in the last years and still does. Female artists are becoming more visible. Women stand up for their needs and inspire others to follow their dreams.
It's inspiring to listen to KVAN and see her perform on stage. She made a name for herself in Uganda and is known for firing up shows with her dancers which couldn't join her on this trip. Connecting artists, musicians and music journalists shows the importance of well connected platforms. As for FUTURE FEMALE AFRICA it wants to generate opportunities to invite more female artists to showcase and present their talent. 
Please have a look at KVANs Sheros Dialog a FFA Video series giving female role models and women leaders the opportunity to challenge the idea of an African Female lead future and how it resonates with them.
The live show by KVAN in the afternoon was the first of two during the Millerntor Gallery exhibition in Hamburg. I enjoyed myself a lot and had a great feeling of capturing the power of Dancehall live performed on stage with a bombastic PA after my last dance in Berlin years ago.
How was it to perform in front of the Hamburg audience?
Where I come from, the majority know the language or the beats so they sing along. But music being a universal language, I could see people enjoying themselves in the crowd as I performed some of my reggae and dancehall songs. It was different but it felt like home.
Besides the fun we had by celebrating this intense performance, KVAN did another important thing: she introduced herself to her new fans and opened up for the following generation of female artists to perform and fill up the stages self-confidently. Good to see by our following walk through the gallery where many people congregated to congratulate her on her show.
Before leaving the backstage and closing the interview for now, I take the chance for a last question.
Which artist do you like to recommend:
There are so many acts I love to listen to. First, Asa comes to my mind. She mixes African music with soul and jazz in a very special way. But there are of course many more to listen to.
We decided to set up a playlist with some recommended African artists the next day to share and to update regularly.
Next day KVAN had a recording session with the German HipHop artist Mal Elévé and the Sounds of South Soundsystem in the Levi's Studio upstairs the Millerntor Stadion. I had the chance for a first listening session and I can tell: something special was cooked and is about to come out soon. In the evening they had the big gig at the Uebel & Gefährlich club in Hamburg with the full package of Dancehall beats before Kvan returned back to Uganda.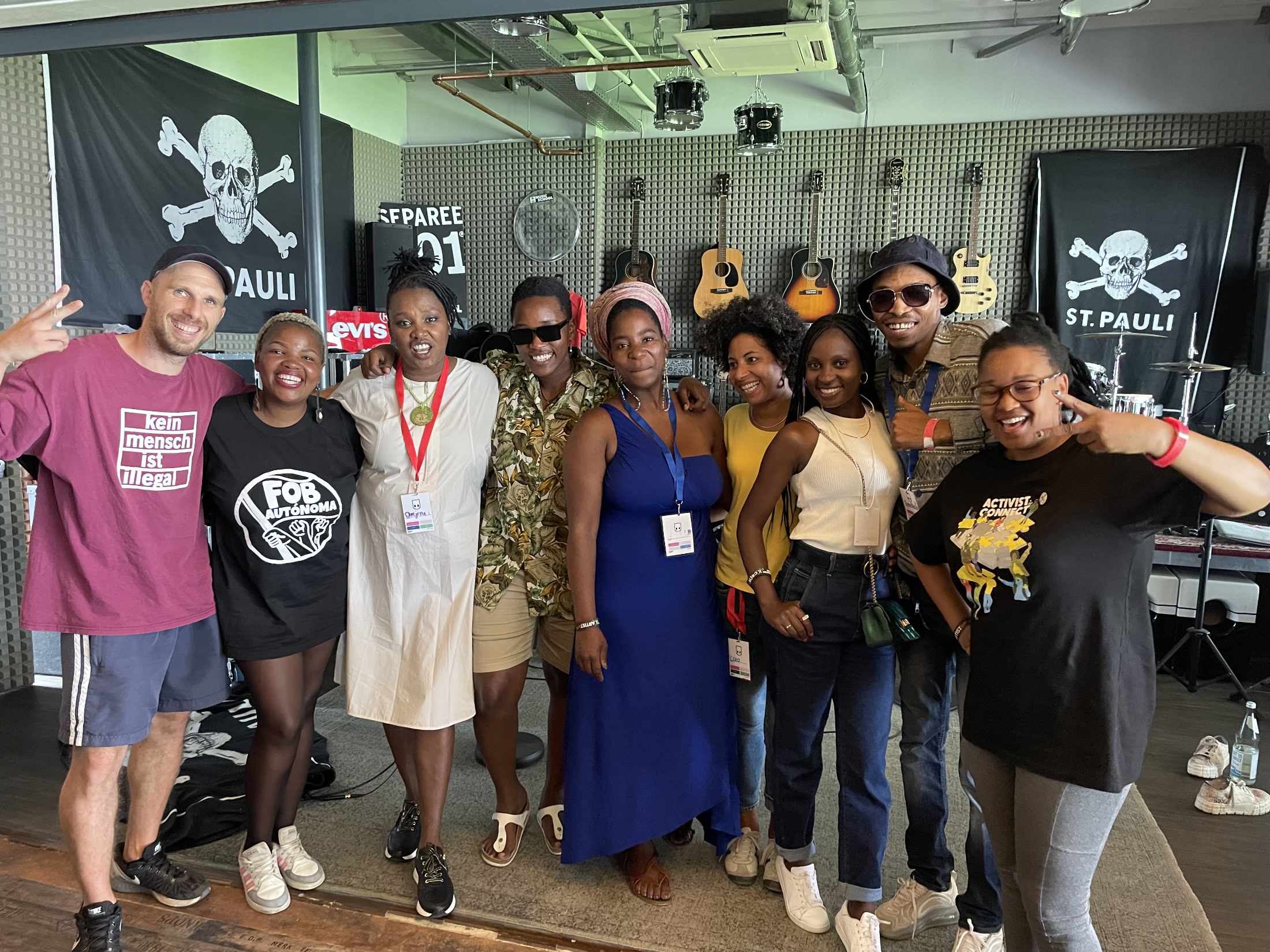 Fotocredits by Caro Schwarz for MUSICSPOTS
This article is just published in English.