Myrkvi is taking us on a journey to Iceland with a sound that may come from sunny places. With his single Coastline he recently released his third single of the upcoming debut album. We had a first phone call with the talented musician from Iceland and look forward to meeting him in our lunch talk live session 'Never Lunch Alone' on 4. August 2020.
Sommer vibes from Iceland
The newest single `Coastline' by Myrkvi is a song about travelling with friends, a real summer song with a fresh light melody. It was written on a travel through Australia. "After travelling for two month in Asia, Australia was the time to relax, before we went on to South America. We took some time to enjoy life and I wrote some music." 'Coastline' is the third song by Myrkvi (aka Magnús Thorlacius) of his upcoming debut album.
The sound of Myrkvi does not really sound like the typical music from Iceland. As well as the previous two singles, it brings neither like the darker melodies nor is mixed with the RnB and HipHop beats that we identify often with artist from the northern region actually. The sound of Myrkvi is fresh and brings more the typical American folk sound with it. Skyline is a bit calmer and tells the story of dealing with a broken heart. But even here the Icelandic artist puts some light and melodies with his soft voice to it.
From violin to rock and folk
Having played the violin since he was eight years old, he changed to playing the guitar when he was a teenager. "I was never really involved in the music scene growing up but believed I had potential so I wanted to give it a shot at least", Myrkvi told us, "when I finished school, I found some friends to play with me in a band. We won a band contest, released a couple of albums and from there on, I am now doing my own music." Magnús himself is more the introvert and calm type of guy. He is still playing and releasing song with his band Vio but found with Myrkvi a channel to present his own sound. I think that more summer vibes from the north region you will not be able to find today.
Upcoming live talk with Myrkvi
We are lucky in having discovered such a great upcoming artist with Myrkvi and look forward for his debut album at the end of October. If you want to know a bit more about Myrkvi, his music and maybe something about Reykavik, tune in on our next live talk 'Never Lunch Alone`. We´ll meet Myrkvi live on Instagram on 04. August at 12.10 pm (CET- Hamburg) / 10:10 am (GMT / Reykavik).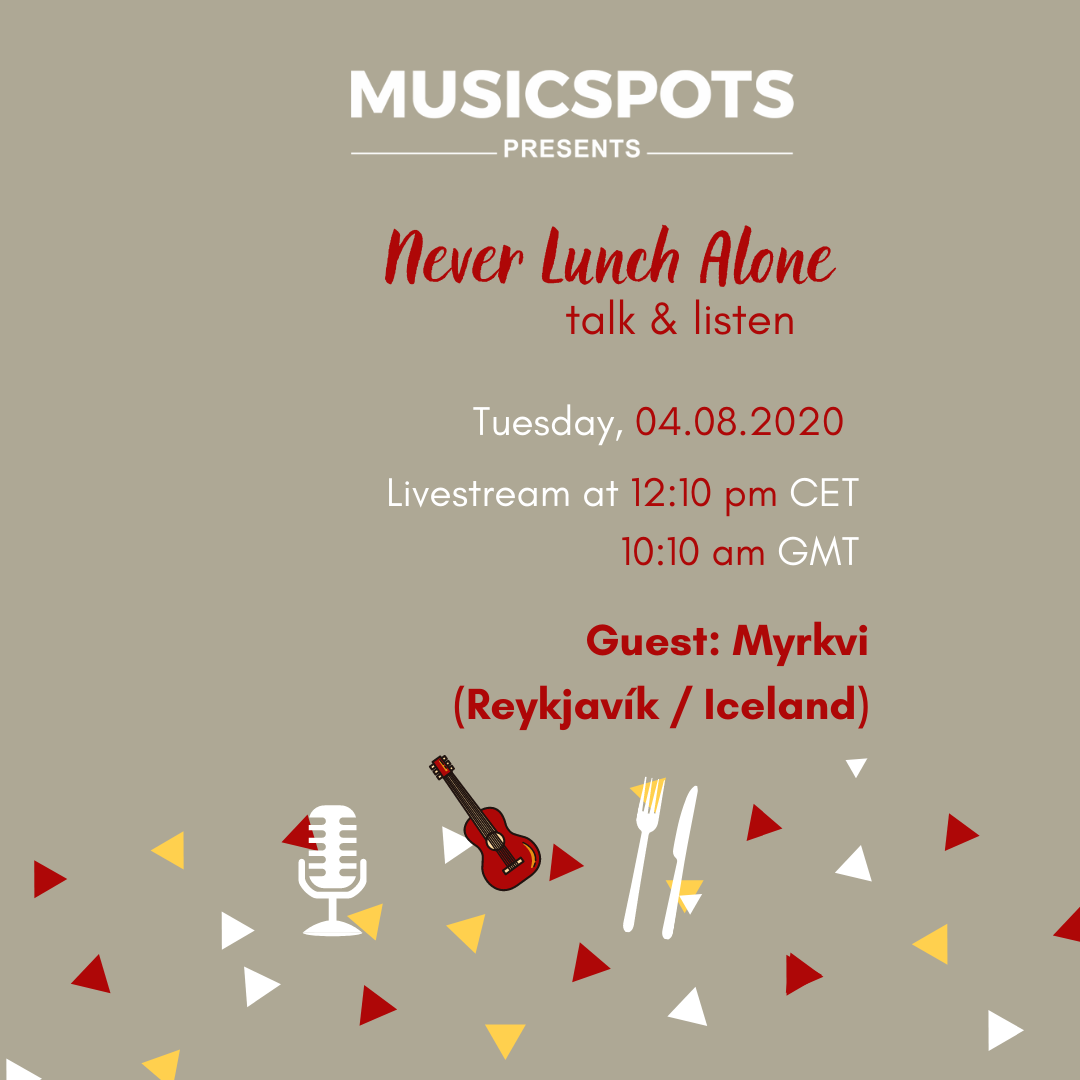 You want more sound from the north with a summer breeze? Then we advise you to Lasse Passage. He has as well some beautiful Indie Folk to present.
Fotocredit: Myrkvi by Melina Rathjen