DOBBY releases with his video to the new single I Can't Breathe (feat. Barkaa) one of the most impressive HipHop-Hymnen these days.
The song I Can't Breathe by DOBBY feat. BARKAA is from first rhyme more than just a nice piece of music. According to the case of murder of George Floyd in Minneapolis in May 2020 and the beginning of the worldwide Black Lives Matters movement DOBBY felt the importance to share his message and his thoughts personally in a song. Together with female rapper BARKAA he calls for immediate action to bring justice to the families of the 438 Indigenous people who died in police custody since the 1991 Royal Commission into Indigenous Deaths In Custody in Australia.
From Australia to the world
Looking at DOBBY's background and having talked with him at Reeperbahn Festival 2019 and during the first days of lockdown I really can feel his motivation for standing up for equal rights in Australia. At the age of 26 he proudly identifies with his roots. As a Filipino and Aboriginal musician, whose family is from Brewarrina on Ngemba land, and is a member of the Murrawarri Republic in Weilmoringle, NSW he is nearly "used" to living in different worlds at the same time. He struggles with many challenges every day and with his skills in music he started to make all these unspoken facts visible. His first EP DOBBY (2018) will be followed by his just announced debut album 'Marshmellow' next year. I think that DOBBY is one of the most talented upcoming musicians from Australia these days. He shares his message as loud and direct as he can from the beginning and I really want to show him my respect by sharing it to the world.
It´s a great clip directed by Luke Currie-Richardson and Benjamin Ling, written by Rhyan Clapham (DOBBY) and Chloe Quayle (Barkaa). The clip was production by Rhyan Clapham and mixed and mastered by Tom Garnett at 301 Studios. The protest footage was filmed by Luke Currie-Richardson. The 3:34 minutes video is as emotional as touching as it can be.
I Can't Breathe feat Barkaa, is an anthem to be listened too out loud. It´s a great songs created by two young musicians from Australia who are from their family background deeply based in the culture of the country. Barkaa is a young First Nations Malyangapa, Barkindji woman who grew up in South West Sydney. The video mostly in black and white and some sconces hard red lighted, brings the message direct and clear to the viewer. The flowing, strong and fast words of the two rappers make us feel their pain and anger. But at the same time, we know and recognized that we are all not alone by staying together.
Even as for from my point of view in Hamburg (Germany), life seems to be mostly fine actually, I want to remember, that we should never forget, that time may change quickly. This makes it so important to support DOBBY and Barkaa and follow their message to educate ourselves before judging. To make the message of I Can´t Breathe as clear as possible, let DOBBY speak for himself with a quote:
I Can't Breathe is a song that Australia needs to hear. It's a direct reflection of our country's disregard for the health of our indigenous people. The title refers to Dunghutti man David Dungay Jr and George Floyd, both of whom yelled "I Can't Breathe" right before they were murdered at the hands of police.
After hearing Australian journalist Alexis Daish, of channel Nine's Today Show, condescendingly telling Californian Black Lives Matter protesters "Australia doesn't have the understandings of the history of police killings here", I was inspired to write a response.
The song is a call to action for the justice of Dunghutti man David Dungay Jr and all those who have died at the hands (and neglect) of police whilst in custody. Not one conviction has been made to this day, for the four-hundred and thirty-eight indigenous deaths in custody, and this count is only since the 1991 Royal Commission inquiry INTO the investigation of Indigenous Deaths in Custody. As a result of the Royal Commission there have been suggested points of action, most of which have still not been considered in our justice system.
Our I Can't Breathe video really captures that frustration of ignorance felt constantly in our community. There are staunch appearances by some very talented mob, and I'm so thankful to have them all a part of this. The direction and creative vision of Luke Currie-Richardson and Benjamin Ling resulted in a powerful, vibrant music video that screams of urgency.
I'm so grateful to have created this track with sister BARKAA. Her lyricism and flow is unparalleled, and she brings so much fire and light to this story. Her feature in the video is straight up truth!" – DOBBY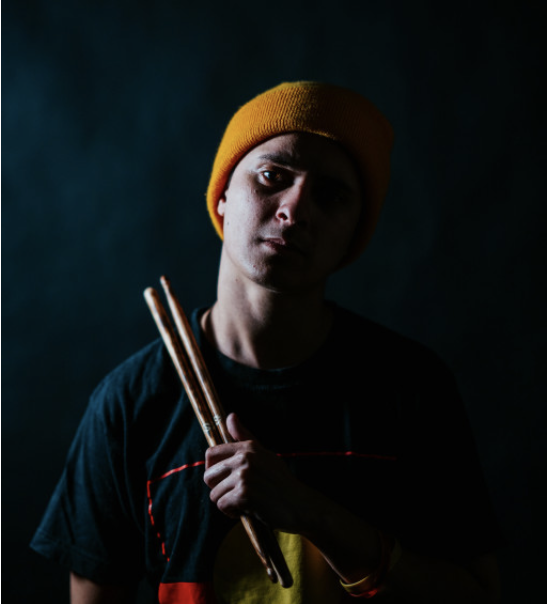 We asked DOBBY and Barkaa directly after the release for a livetalk. Stay tuned for their answer. We will keep you in loop.
More about DOBBY, his upcoming dates and releases you´ll find on his Facebook Fanpage, Instagram and his Youtube Kanal.
Fotocredits: by Luke Currie-Richardson