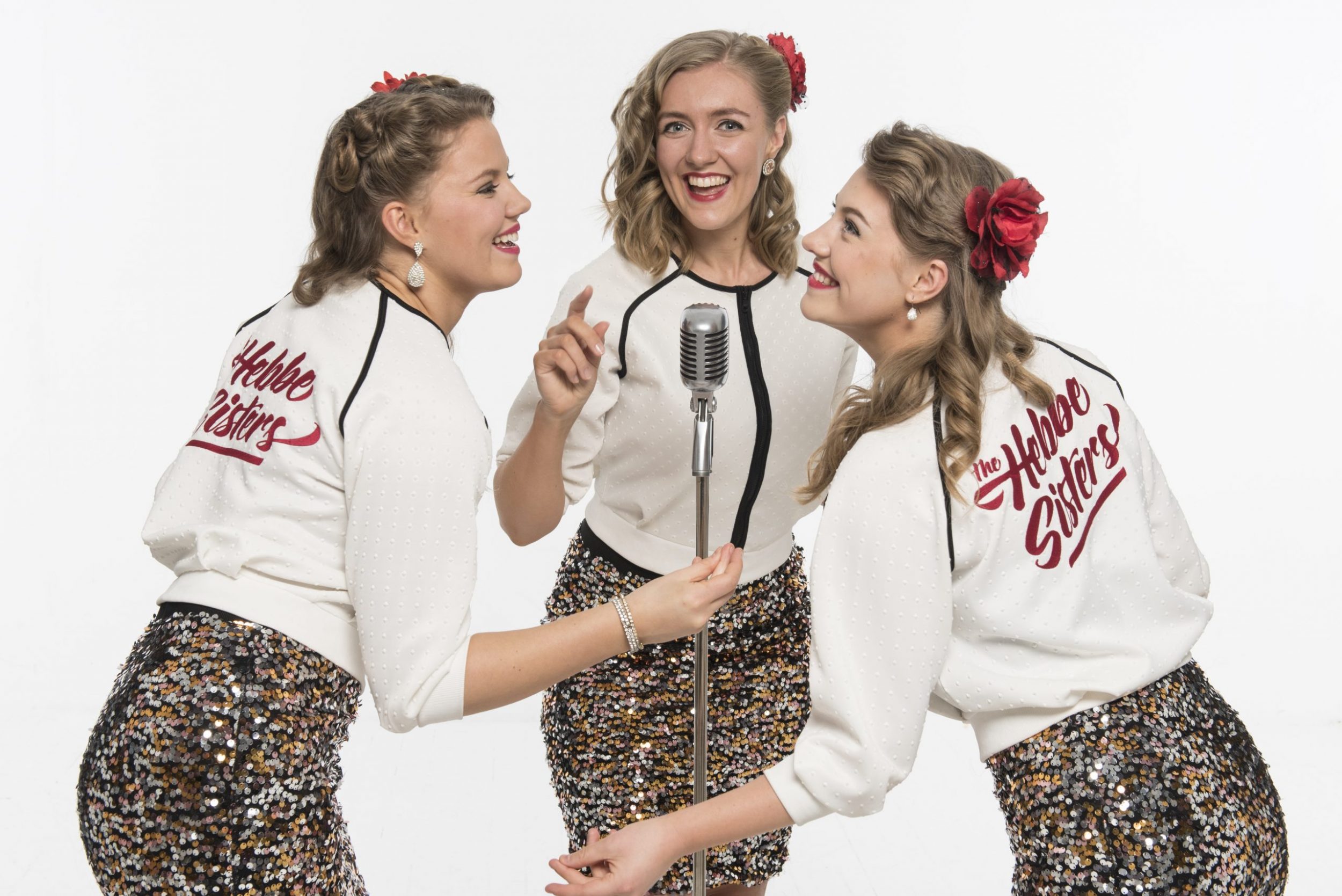 The Hebbe Sisters – Jazz it Up and Move
The Hebbe Sisters are a brilliant group of three female singers. The group consists of Emelie, Josefine & Maria Hebbe, three real sisters from Värmland, Sweden. The Hebbe Sisters are lucky to do what they love most: perform and work fulltime with music. Nowadays, they regularly perform both in Sweden and abroad along with musicians from around the world.
In March, they released their third album "Jazz it Up and Move"– a collection of recordings entirely dedicated to jazz and swing music. The Swing and Jazz queen, Gunhild Carling, hailed The Hebbe Sisters as "Sweden's Swingiest Singers!". We believe she's right! After listening and watching three streaming concerts through GigsGuide during the last weeks we can truly say: the talent of Emelie, Josefine und Maria is enormous and spectacular. Every gig was different from the other, each one offering a different repertoire and special arrangements requested by their most loving fans.
With their third album, "Jazz it Up and Move", The Hebbe Sisters perform up-tempo tunes as well as well-known swing classics such as All of me, Fly me to the moon and I got rhythm. But they also have added an original composition to the track list, "Jazz it up and move", which gave the album its name. The album is a tribute to the golden era of swing which reached its peak in popularity during the 40s. The Hebbe Sisters deliver jazz vocals that perfectly resemble the singing style of that decade.
Differently from other contemporary musicians, they decided to release Jazz it Up and Move firstly just as a physical record. They have planned the full release of the album on all streaming platforms at a later date. So, as of now, we online music listeners can find three singles of the album on all main music-streaming platforms such as Spotify. These tracks have been chosen to give us a first taste of the music and the sisters' singing style. A fourth single will be released online in the end of July.
We start listening to "Do Do Do" in the morning and end the day with "I've Got to be a Rug Cutter". Our favourite online-released tune is definitely the title track "Jazz it up and Move", written by the eldest sister Emelie. This fantastic up-tempo tune, with swinging rhythms, tap dancing, gorgeous harmonies and several surprising musical moments will make you want to dance and smile. As usual, it is hard to describe music. So best to listen for yourself! Great to see watching the video taken in the studio.
Playing a live gig is undoubtably difficult for artists in these times of crisis. Especially for a group of musicians that regularly perform live like The Hebbe Sisters. It's great to see, that they are managing this tricky situation in such a remarkable way. After receiving an invitation from the Swedish start-up GigsGuide, which hosts online live concerts, The Hebbe Sisters built up their own streaming studio in their living room. Live gigs are no longer a problem for the three swinging sisters. In a phone interview they told us, that even the technical part is all in their hands. It is remarkable, how a challenging situation offers the opportunity to learn new skills and grow. The Hebbe Sisters have so far streamed three live concerts through GigsGuide. The streams are still available online on their Youtube channel. So check them out! The show from 03.06.20 was very special! These three sisters showed us once again, that music can be performed anywhere, even in the woods with some curious cows in the background.
If you love jazz and swing music or if you're less familiar with this kind of music, you really have to listen to The Hebbe Sisters who slightly remind us of the legendary group The Andrews Sisters. The Hebbe Sisters wish to inspire the listeners to embrace life, enjoy themselves and seize new opportunities.
Take a chance and order their newest record right from their website or stream it loud on repeat.
The Hebbe Sisters livetalk with MUSICSPOTS
We are very lucky to be able to announce The Hebbe Sisters as our guest for the Never Lunch Alone Instagram live session on the 30th of June at 12:10 pm.
After listening to their very broad repertoire, I am not sure which song is on my wish list. Would you prefer swing or a bit of soul? I wouldn't mind  something like their amazing performance of "Stop in the name of love", which gives me goose bumps.