Sion Hill gives us deep insights into an eventful time on his new EP. With a good mixture of pop, rock and blues, the Irish musician tells us about his past months on A State of Permanent Flux.
In 2017, Sion Hill was highly praised for his debut album Elephant. A record full of raw blues and soul with just the right amount of pop to excite all potential fans. The following singles Fuel Kids and Last Minutes were unfortunately rather anaemic and bland, more pop than rock or blues, so that they made the young artist disappear into oblivion.
Now, after a hard time in which Sion Hill audibly struggled with himself and the world, the young rebel is back. He seems to stand securely on both feet again and shows with the new pieces that he has not lost his talent for telling stories. Virtually reborn, he dares to make a new start as an independent musician.
The new EP A State of Permanent Flux consists of five songs that answer the question: "What happened in the last months? It seems that Sion Hill has gone through every valley that opened up in front of him. "This period in my life was full of ups and downs, positives and negatives. What was ever present was this overwhelming feeling that – at any moment life could throw a curveball my way and everything would go tits up," the musician says about the past time.
We hear stories about too many parties, the repeated break-up of a relationship due to cheating (How Did This Happen Again) and learn about a young man who loses himself in drugs (Amsterdam). There are tracks about the experience of saying no and the realisation that growing up is hard. Experiencing all this in the midst of a pandemic is certainly not the easiest life path for a young artist. Fortunately for us, Nathan Johnston aka Sion Hill has not lost his talent for turning what he has experienced into music during this time.
All five songs change constantly in tempo, sound and style. They reflect the mood and the development that Sion Hill has experienced. There are loud and angry guitar runs as well as soft parts, like in Amsterdam. You should also listen to the lyrics in a concentrated way and let the musician's deep characteristic voice take effect. Lines like "Having breakfast in Amsterdam" are just as deeply insightful as the longing Temptation with its disco beat.
During the lockdown in the Covid pandemic, Sion Hill returned to his hometown of Mullingar in Ireland. This is also where the last song on the EP was written. Walk on the Wire tells of a tender first new beginning. "This song is like my mantra – that I will continue to 'venture into the unknown,' with an open mind and an open heart and whatever happens, time will heal all," Sion Hill says about the song. Last but not least, you can clearly hear his Irish singer-songwriter roots. He sings longingly soft but strong and you have the image of the musician on the Emerald Isle in your mind's eye, humming the lines for the first time with his guitar on his knees.
Perhaps this return from a bigger city to a familiar place has also made the EP even better. Because these five tracks show an artist who presents himself honestly and openly with a wounded heart.
In summary, Sion Hill has released a very beautiful emotional and authentic EP with A State of Permanent Flux. The anticipation to see this young talent live on stage next February is rising.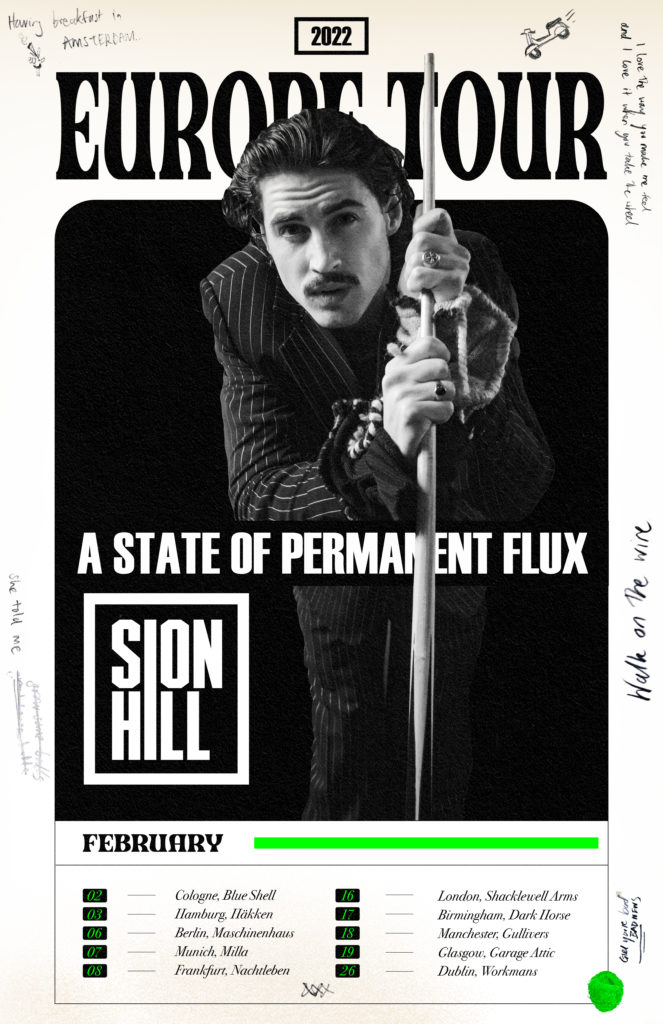 02.02.22 Köln, Blue Shell
03.02.22 Hamburg Häkken
06.02.22 Berlin, Machinenhalle.
07.02.22 München, Milla
08.02.22 Frankfurt Nachtleben
16.02.22 London Shacklewell Arms
17.02.22 Birmingham, Dark Horse
18.02.22 Manchester, Gullivers
19.02.22 Glasgow, Garage Attic
26.02.22 Dublin, Wokrmans
Tickets for the European Tour you´ll get here.
Finally, a recommendation: If you were looking forward to more blues & soul from the Irish singer with the wonderfully smoky voice after Elefant and didn't get your money's worth here, you should listen to his latest single Could Have Had iIt All. It's a song that's as smooth and soulful as we've seen Sion Hill back in 2017. The track was released just a week before the EP and I was hoping the new release would contain more of that sound. "It's an extra one," Sion Hill replied when I asked about the missing song. Maybe this is already a first preview of the upcoming album, who knows … with Sion Hill anything is possible.