"We want to connect with people in a way that they feel the intensity of the love we are trying to convey. Because it's all about love. That's what the whole Lee Fields thing is about," Lee Fields tells MUSICSPOTS in an interview before his show at the Mojo Club on Wednesday in Hamburg. And this much is to be anticipated: He and his band definitely succeeded.
Soul legend Lee Fields plays at sold-out Mojo Club
It was an evening of soul, love, joy and honest music on Wednesday night at the sold-out Mojo Club in Hamburg. After the 20-minute opening act of his backing band, Lee Fields entered the stage in a sparkling blazer. With his voice, aura and charisma, he immediately captivates the roaring audience. Despite his age, the 72-year-old soul singer moves light-footedly across the stage and forms a unit with his band that seems to understand each other blindly.
The 90-minute set consisted of a mix of uptempo numbers and ballads like You Can Count On Me, Standing By Your Side or Money I$ King. He also performed excerpts from his current album Sentimental Fool like Two Jobs or Forever. These are songs that go straight to the heart.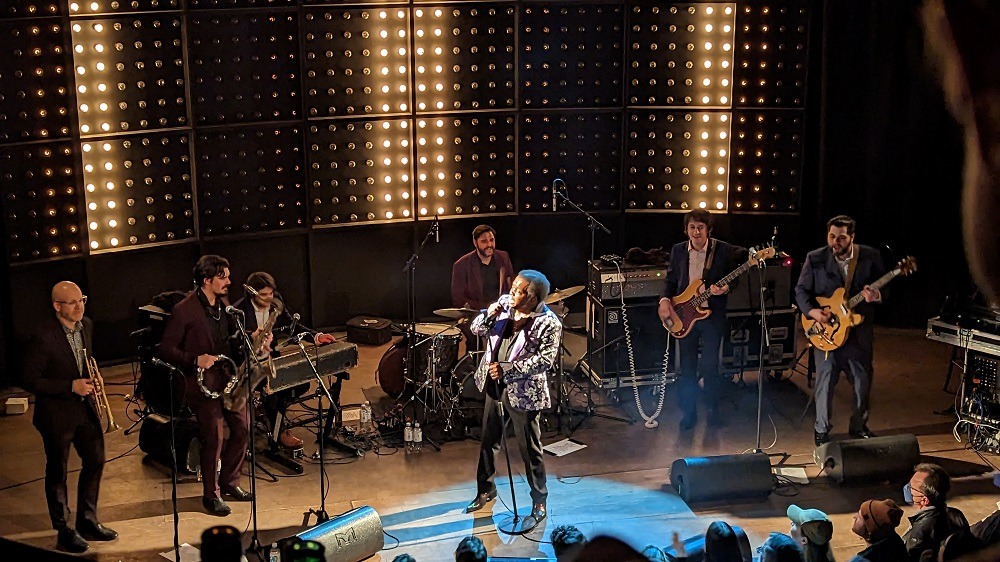 Giving love and conveying honest emotions with his music is Lee Fields' biggest priority, as he tells us in the interview: "Love is what I always try to build my music on. Because what I feel is: the world needs a little more love. If we cared more about the other people on earth, we wouldn't be in the situation we're in now. […] People should live in peace and harmony. I believe that our Lord and Savior advised us to be like that: To love one another and not kill one another." This is both the impetus and inspiration for the current record Sentimental Fool: "I make music about people's emotions. The real emotions that people really go through. That's what the album really conveys."
A rousing concert evening
Fields makes a point of sticking to the traditional musical form and instrumentation of soul with his songs: "I try to stay as true to the form of this music as possible. Because I don't want to lose the gospel feel." The influences of gospel are a crucial aspect of soul music that he believes aspiring soul musicians should also embrace: "I would say to a real soul artist who is up and coming, stay as close to the Word as you can. The word of God. Because the first soul man was Adam. When God put the breath in Adam's nostril, Adam became a living soul. And he was a human being. So he was the first soul man. […] Stay as close to the word as you can. Try to do it and try to be as upright as you can."
When asked which song means the most to him, Lee Fields replies with a smile: "All the songs really make me feel good. It's hard to say, because all the songs are like my kids. It's like asking me which child I like best." But then adds: "Ladies is one of my favorite songs. Because I wrote that to honor all the women I've met. My mother was a very important figure in my life and she always showed me respect for women. So I would say Ladies is the song that is very special to me."
Although the song was not played at his concert at the Mojo Club – for all those who are curious, Ladies can be seen here as part of the live performance of the NPR Tiny Desk on the occasion of Black History Month. From the first second to the last, Lee Fields presented himself as authentic and approachable. He included the audience in his performance and inquired about the mood at regular intervals with the question "Are you happy?", which the audience cheeringly confirmed to him. The crowning glory of the evening was without a doubt the 20-minute encore, with the band playing on loop in James Brown fashion. Lee Fields literally sang himself into ecstasy and seemed to forget everything around him. A moment that probably remained in the minds of many guests after the concert.
Photocredits: Adrian Langer
You like our articles and music tips? Then support us with a membership in our community via Steady.
We are convinced that artists, bands and music media should support each other. That's why we would be happy to welcome you as part of our community. Start now with a free 30-day trial membership. You can find more information here.