Singer and songwriter Ian Fisher presents on his new album Burnt Tongue, a collection of songs that are as different as they are similar to his past work. With a warm and flowing sound, this album seems to be one of his most personal releases. In our interview the musician talked about the development of his music, making decisions in unsure times and why touring is still the best way to get in contact with fans.
Our interview starts with a direct jump into the new album. Achilles' Heels is one of my favorite tracks and after mentioning this we talk about releasing an album track by track instead of just putting out one or two singles before the album will get on the market.
"Why didn't you release this excellent track earlier?", I asked. "Maybe because it's not a typical radio song," Ian Fisher was thinking out loud. "With a length of five minutes the single may not be the favorite choice for radio stations." We laughed, but we are aware of the bitter seriousness of the statement. The specifications for music that has to "click immediately" today are so strict that some good songs will never be heard on a radio show.
That's exactly one of the reasons why I love the piece. It has this extra long and beautiful ending and lots of little things in between to discover. Later in our conversation, Ian Fisher tells me the story behind the song. When he found out that emotional pain can turn into real pain. One example is shortness of breath as a symptom of feeling helpless. During the Corona pandemic, as a frequent traveler, he was forced to stay home, and his Achilles' heels began to ache, and sometimes still do.
Ian Fisher tells me about the changes he's gone through in recent years and how they've affected his life and the album Burnt Tongue. He says that this album is one of his least Americana-heavy albums. Listening to the 10 tracks plus 3 skits that make up the album, I can really call it an album to fall in love with. To me it has the right balance of "bluesy" country style and some popular new elements. Ian Fisher explains to me that the sound is made up of several factors. First is the influence of the time in which it was created. The first months of the Corona pandemic were marked by lockdowns, isolation and many restrictions. The feelings and the circumstances are clear characteristics of the album.
Besides this there are two more important facts that make the sound of this album that special and unique. One is that nearly all the songs went through three phases of production and development.
During the very early phase of the pandemic Ian Fisher started to write the songs alone with his acoustic guitar and then brought them to his friend and bandmate Ryan Thomas Carpenter.  "We were playing the songs and drinking our time away, while the world around us seemed to collapse", he told me. All of the sudden I remember the weeks when the world seemed to stand still.
The second phase was in Wuppertal in the studio of producer, musician and also good friend Jonas David. "Here we had everything musically that we could imagine using, everything was possible. The sky was the limit and we experimented a lot." The final touch for the album had been done in a special place. The crew decided to produce the album in the Pausa Studio in Sicily. "We had to do a lot of decision making," Ian Fisher explained this last phase of Burnt Tongue to me. After being based first on just two acoustic guitars, later added many instruments and effects to them and finally they had to decide what would make it on the album.
That the songs had been changed so many times is not to be heard on the final record. This finally brings us to the last element and maybe most important element regarding the sound on Burnt Tongue: The creative energy of the band members who are also good friends of Ian Fisher. "Jonas David, Ryan Carpenter and Richard Case created a sound cloud in which I could easily dive in and develop my songs free and without any restrictions," he explained. They put together a lot of guitars, pedal steel guitar, piano, and effects. For me it feels like they created something like a warm "Humming" bottom for the lyrics to tell us the stories behind the songs.
Even Ian Fisher says that this is his least Americana and country styled album, you can feel the typical style full of Mississippi Blues and Folk between the lines in every new song. There is always this little bit of the times where it all started. A good example is One Way Out & No Way Back. A song that made it onto the album in its almost original version. It's one of my favorites, influenced by the 70´s band as Big Star or The Jayhawks. I can see Ian Fisher and Ryan Carpenter together creating songs against fear and silence surrounding them in front of my eyes.
Another one of my favorites is I´ll Be There. A single that came out early and was written for a friend. "He was working as a doctor in a hospital for children and I knew he had some hard times to go through" Ian Fisher told me. I love this song for its lyrics. A song that  shows that music is one of the best ways to show your feelings and that can be a support for a good friend.
During our conversation I got to know more about the musician who has been doing music for over 20 years. He is still convinced that touring is the best way to get connected to his fans. "I really do not like the way we release music these days", Ian Fisher told me at the beginning. Later in our talk he added that he often feels forced to post news on social media but he knows the benefit of the possibility.
By founding his own fan club, he has additionally opened a special digital place where he can meet his fans. On the release day of the album in early February, he did a livestream on Instagram, which seems like a little foretaste of the upcoming tour.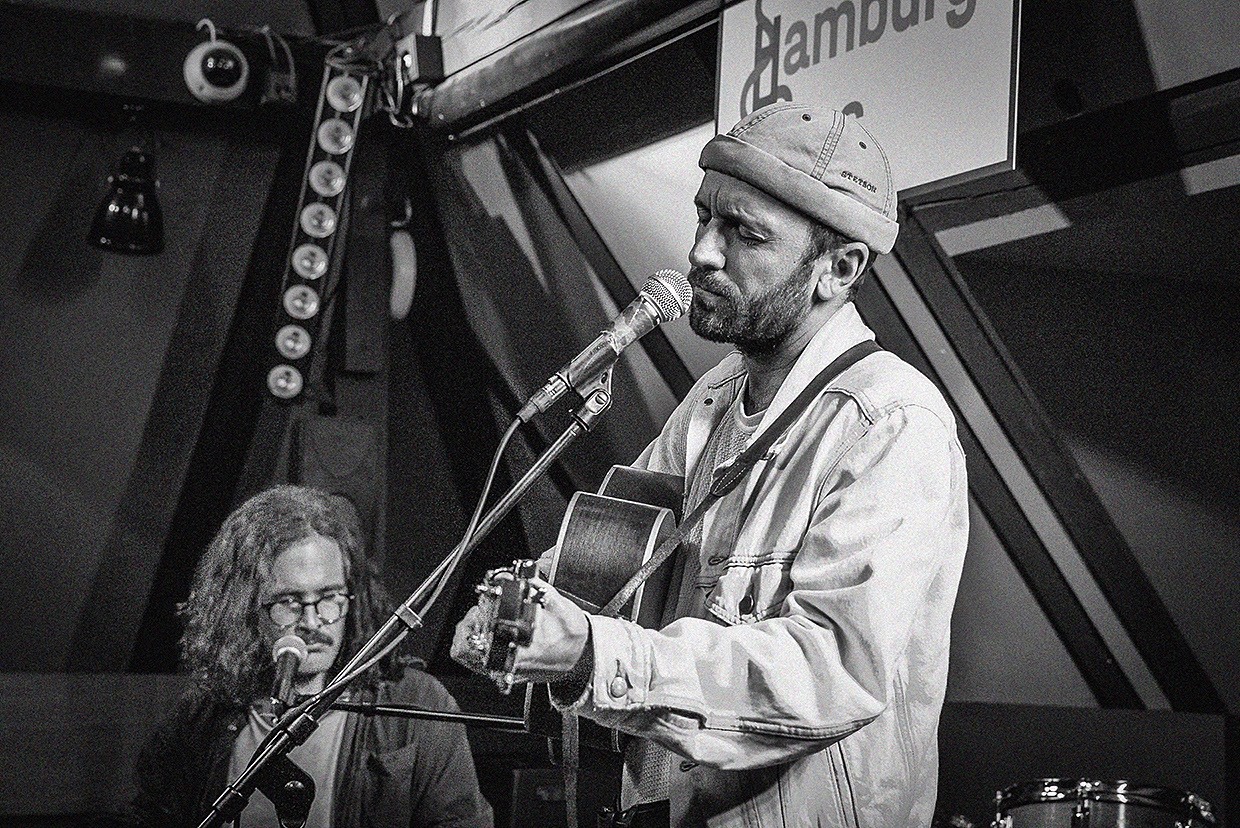 Asked with whom he wanted to share the stage with, he recommended the singer Gillian Welch to me. I would love to see them together on one stage. But before this dream will come through, Ian Fisher will start his own tour. Regarding his forthcoming gigs Ian Fisher tells me that he is most looking forward to playing in Dachau where he had been living some time ago. We both know that every stop on this tour through Germany and Austria will be a special one.
Last time I had the pleasure to watch Ian Fisher twice on stage during the Reeperbahn Festival in Hamburg. First at a small show at the Backseat and Fanklub reception and a second time at the big stage at the Reeperbahn. Next step for me will be at Knust in Hamburg. Hope to listen to many new songs from Burnt Tongue like How Far and my other favorites.
Maybe he will bring some good old songs like Be Thankful from his last album.-  a song that is a kind of beginning for Burnt Tongue. Like Ian Fisher says: "This album is like a sequel to American Standards. After asking to be thankful, I wanted to share what I am thankful for," the musician tells me.
After listening to the new album many times and getting the chance to talk to Ian Fisher I highly recommend Burnt Tongue to you. An album full of songs that always give us comfort, courage and strength.
09.02.23 Die Bäckerei,  Innsbruck (A)
10.02.23 Berchtoldsaal, Weyer (A)
11.02.23 Stadtsaal, Vienna (A)
18.03.23 Schranne,  Dachau (D)
21.03.23 Knust, Hamburg (D)
22.03.23 Privatclub, Berlin (D)
23.03.23 KGB, Langenberg (D)
24.03.23 Jaki, Köln (D)
25.03.23 Franz Mehlhose, Erfurt (D)
04.04.23 Rockhouse, Salzburg (A)
05.04.23 Via Claudia Saal, Serfaus (A)
06.04.23 Kraftfeld,  Winterthur (CH)
07.04.23 Swamp, Freiburg (D)
08.04.23 Kammgarn, Hard (A)
We are happy to present the tour with The-Pick und Ahoy Radio Hamburg
You want to see Ian Fisher live? Then follow us on
Instagram, Facebook and Planet MUSICSPOTS. We are giving away 3×2 tickets for a city of your choice. It pays to be quick! You can find the detailed requirements in our competition terms and conditions.
You like our articles and music tips? Then support us with a membership in our community via Steady.
We are convinced that artists, bands and music media should support each other. That's why we would be happy to welcome you as part of our community. Start now with a free 30-day trial membership. You can find more information here.