Benny Sings presents us with his new 10 track album Music a very typical album of his style. Please take it as a big compliment, because as a longtime fan, you cannot expect every time the best releases by an artist. Prior to the release Benny Sings gave us some of his time for a chat  about producing evergreens, tunes from the past and how it may be possible to make happy music in times of crisis.
To meet Benny Sings these days feels like a strange flashback. It´s now nearly two years ago since we met in Hamburg before his gig on the Elbjazz Festival 2019. Today in 2021 I am lucky to catch him via zoom. International traveling is still not possible and even if we could be in Netherlands, a meeting with the artist might be hard to arrange.
After releasing City Pop in 2019 on Stones Throw Records things had changed slowly but in a good and positive way for the artist. Benny Sings tells me, that since he is a part of the Stones Throws family his fanbase has grown and it influences his music too. He is no longer just surrounded by the secret Benny Sings fans, his songs are played more on radio stations. For me his songs sound a bit more perfect but not that much that they lost their special soul.
Music is now his second release on the US label and his 8th complete album. Like we have  already said: It´s a great record, full of light, uplifting tracks. I think everyone who knows Benny Sings will love it and new fans might just fall in love it.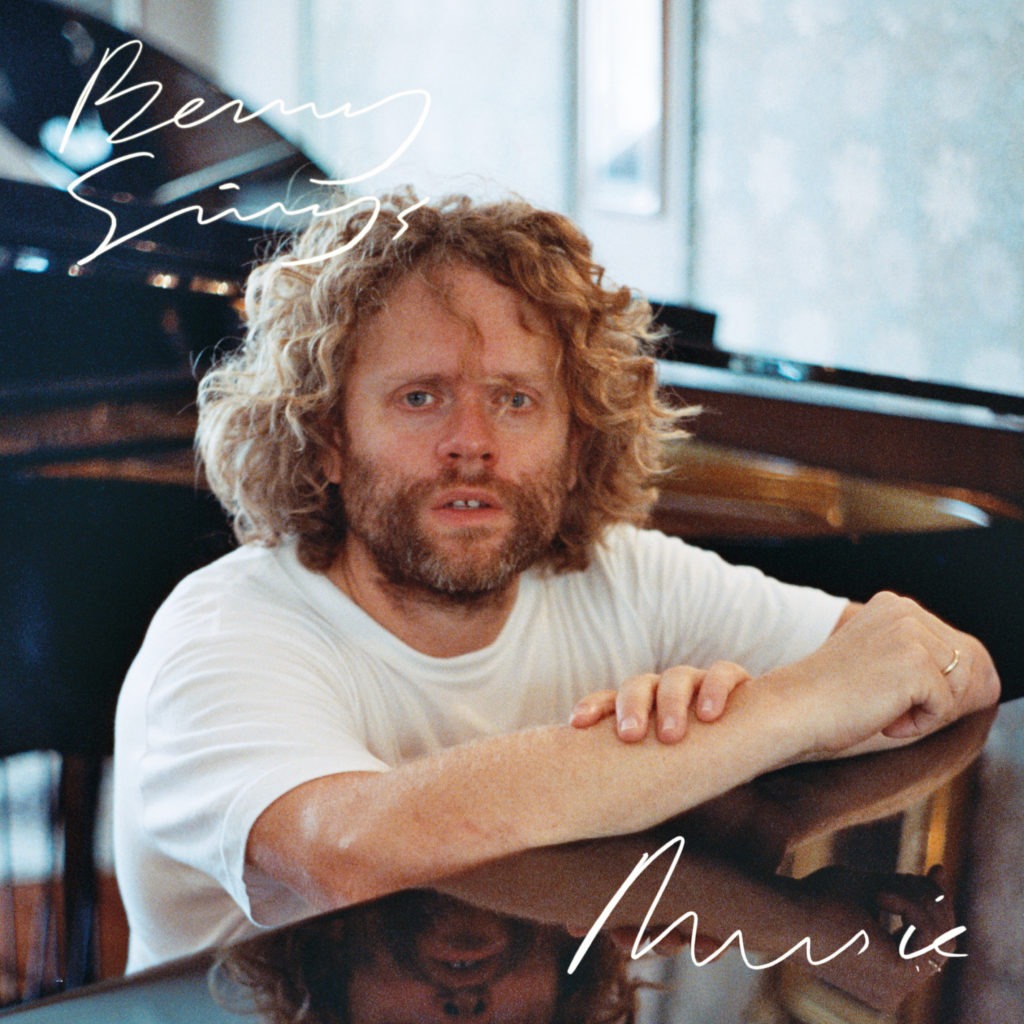 The title track Music  that was already released in January 2020. But not as people might except, the album was not postponed by the crisis. "At this moment we had still been working on the most of the tracks. To be honest, we just pushed the release some weeks forward, but its nothing to do with corona," the artist explains to me.
Good to hear that some things in music business still remain the same. For the sound of new song we also can say the same. After releasing new songs over decades now, his sound is so specific that you can realize instantly its a Benny Sings song by first or second note. It´s good pop music with a light breeze of jazz and soul and a lot of laziness. To sum it up: The record is like a cozy healing blanket in these times of unsureness and changes.
Starting with the first track Nobody´s Fault, we are directly in the Benny Sings world. Tom Misch gives the song a funky guitar solo, which comes right before i feel the tears rolling down my face because I am so stuck in the story of this broken heart. Listening first time to the song, I thought: 'Wait till it´s over, wait till it´s done', is the perfect phrase for these days. Tip: Listen to the song on repeat and start dancing back and forth wherever you are. It will heal the pain.
Asked how he can set up all the happy sounds and positive emotions in his arrangements in these times of crisis, Benny explains, that It´s not really producing some happy fanfares with trumpets and loud voices, his sound is more the silent way. "It´s more the sound of something you are longing for and waiting to happen." But waiting and listening to the new songs makes me happy.
Another example is Rolled Up with Mac DeMacro. The two musicians met in L.A. and the track basically produced mostly itself. The sad and heavy message that makes you feel depressed is again packed in a light flowing melody. And the idea to start with the blackbird in the background makes it as chilling as possible.
It is amazing how Benny Sings manage to arrange one nice track after the other. The new album Music is full of them. "I have always the goal to create an evergreen", Benny Sings tells me. For me, he already has reached his goal several times. I love Big Brown Eyes, Everything I know or Dublicate from his past albums. And even now with the new track Nobody´s Fault" he presents us an evergreen on his first track.
Skipping through the record we find so many great collaborations on the album. My favorites are: Roll Up feat. Mac DeMarco, Nobody's Faultfeat. Tom Misch' Kids feat KYLE and Miracles feat. Emily King. Some of these songs had not even been planed to be on the album, Benny tells me with a smile. But adding the input from the other artist to his snippets they suddenly sound complete.
Kids with rapper KYLE reminds me on the first Benny Sings tracks. A bit wild, oldschool HipHop beats and the two voices telling stories from the past. Love it! The 80´s drum beats with echoes and breaks are brilliant. Asked where the idea of a song which so much forward and backwards at the same time can happen, Benny Sings tells me he was influenced by KOKO (!). Hey that makes sense! I love the track and I really love the three crazy lads from Bristol, who just had a great takeover on our Instagram channel some weeks ago.
My personal evergreen on the album may be Miracles feat. Emily King. Nothing exciting, nothing new, but a sound with soul, violins, a walking bass and light fluent voices. "I do not believe in miracles, walking on water,. But i believe you are beautiful, let us just start it". No more to say. A love story to lay back and enjoy.
The album ends with the title track. And listening to Benny telling us: "Music, help me through this, whenever I'm down on the floor", I totally agree with him. So let´s put the album on repeat and listen to Benny Sings telling us: "Hey, it's nobody's fault / We're getting old And time keeps pushing on / To the end of the road (my darling) /hey, what can you say /It's better this way / It's time to sing your song/  So I'm letting you go".
In summary Music by Benny Sings is an album so light and fresh, you really have to love it from the start. The mix of Pop with light jazz and some experimental HipHop makes his style so personal and easy for everyone to listen to. Yes, you might say it´s just background music, elevator songs or early afternoon bar music. But this is not necessarily a bad thing. No quite the opposite of it: The songs are just more brilliant and the album will have special place in my collection.
Benny Sings – Music Tour 2021
19.10.21 Bird; Roterdam, NL
20.10.21 Paradieso Noord, Amsterdam, NL
22.10.21 Alte Feierwache, Mannheim, DE
23.10.21 Junk Yard, Dortmund, DE
24.10.21 Gretchen, Berlin, DE
25,10.21 Nochtspeicher, Hamburg, DE
27.10.21 Trix, Antwerp, BL
28.10.21 Hot Depot, Leuwen, BE
07.12.21 Le Poison Rouge, New York, US
08.12.21 The Sinclaire, Cambridge, US
10.12.21 Les Petit Campus, Montreal, CA
11.12.21 Adelhaide Hall, Toronto, CA
13.12.21 The Biltmore Cabaret, Vancouver, CA
14.12.21 The Crocodile, Seattle, US
15.12.21 Dough Fir Lounge, Portland, US
17.12.21 Troubadour, Los Angeles, US
18.12.21  The Independent, San Francisco, US
You want more light fresh sound? We would recommend the new album 'Take Tsubo' by L`Impératrice to you. Fun fact: Producer Renault Letang has put his magic fingers on both releases! Great work!
Fotocredit: Benny Sings by Tess Janssen
Red. info: The article was updates after first release on the 1 of May.